CNHF Manpack
Wideband HF radio
The CNHF Manpack is a portable version of Telenor Maritime's rack mountable HF Radio. It utilizes the same revolutionary, cognitive, adaptive CNHF waveform to provide superior performance and ease of use.
We have built the CNHF Manpack to serve a number of use cases, all while being simple, secure and reliable to operate, equivalent to our rack-mountable version radio.
Advanced SDR Platform
The CNHF Manpack has a number of built-in features making it easy to integrate with customers' existing systems. With built-in Ethernet, WLAN and an LTE modem, a variety of use cases can be fulfilled with maximum efficiency. Built using the latest SDR technology, the Manpack has very low power consumption which in turn maximises battery life. The built-in battery charging capability eases strain on support. Being a true SDR platform, we assure our customers that new features and capabilities can be added as a software to their radio fleet.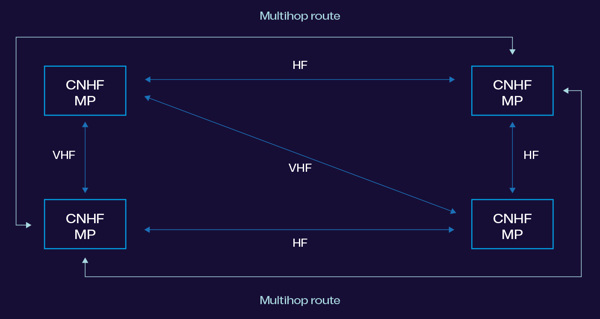 CNHF multihop functionality: Both the HF and VHF band may be used for multihop routing to overcome connectivity challenges in complex network topology situations.
Cognitive Networked HF Waveform
The CNHF Waveform has multiple game-changing features not currently found elsewhere: cognitive spectrum usage and extremely fast GNSS independent ALE supporting over 2500 calling channels listened to simultaneously. In addition, wideband HF data up to 300 kbit/s and extremely robust modes are able to operate with less than -10 dB SNR. The innovative multihop functionality ensures that a route from source to destination is always found. Lastly, as the CNHF Manpack also covers VHF up to 56 MHz, interoperability with legacy VHF FM radios can be achieved when required.
Download product sheet
Register below to download technical specifications. We will send you the download link by email.