Wi-Fi Access
Telenor Maritime offers fast, reliable Wi-Fi access on board
The passengers and crew are expecting the same connectivity on board as on shore. They want fast, reliable, easy to use Wi-Fi Access. Telenor Maritime can offer this service to make both your crew and passengers satisfied.
The Wi-Fi service consists of several Wi-Fi packages which can be tailor-made to the vessel. Our main packages serve the need for passengers, crew and for business purposes and can be purchased by the end user through vouchers in reception on board or paid by credit card.
When trying to connect to Wi-Fi the users are directed to a web page which is designed to provide the simplest possible way for the passenger to get onto the Internet. The page displays different Wi-Fi packages with description and prices and all pages are adaptive to any screen size and optimized for ease use.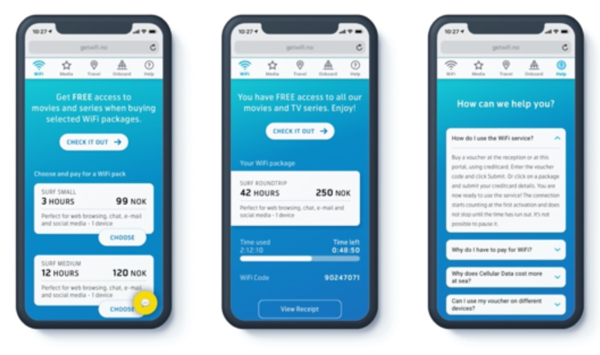 The wi-Fi Access is an enabler for the digital information channel and platform – our Wi-Fi Service Portal that provides ship owners with a unique communication channel and enhances passenger experience on board.
Wi-Fi Payment Solution
The Wi-Fi Access offers a payment solution with voucher and credit card payment, Central Management System and VAT solution. We also provide a web service, the Sales Support Terminal, were the receptionists and hotel managers can log in and get access to an easy-to-use interface for generating voucher tickets, providing refunds and retrieving daily and monthly sales reports.
Performance Monitoring, Alarm Handling and QoS Management
The Telenor Maritime managed Wi-Fi services are delivered through professional Wi-Fi networks onboard vessels, including network planning, engineering, and a management platform to monitor end user experience, network health and traffic utilization. Our Network Operation Center is monitoring the service 24/7 and is easily accessible for any questions.