Global Data SIM – your worldwide fleet connectivity
140+ countries with predictive zone based pricing
Global Data SIM is a global connectivity solution. It provides one global SIM-card with one invoice for the whole fleet, as well as detailed reporting, cost management and tracking in one place.
Global Data SIM provides you with:
Competitive pricing for 7 worldwide zones
Predictable roaming charges
Prevent bill shocks from pricey roaming partners
Global 4G/LTE connectivity with a single SIM
Set usage and cost limits at the management portal
One overall invoice with detailed reporting for your internal invoicing
Secure connectivity by design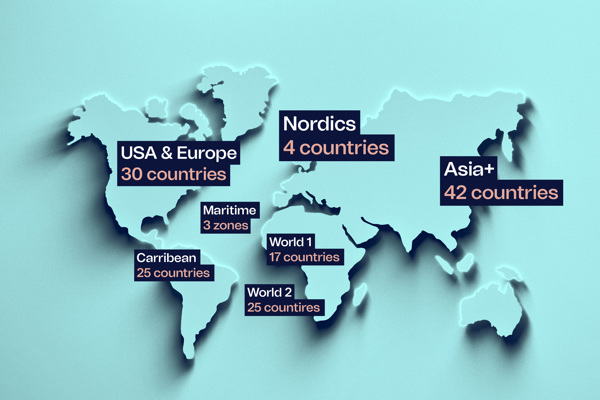 Simple pricing model at six zones worldwide
Bill shock proof connectivity
Through our SIM Management Portal you will get a full overview of the use of the sim-cards. We prevent potential bill-shock at source by blocking expensive countries and blocking expensive networks.
Predictible pricing
The pricing is split into different optional zones which makes the pricing far more predictable. We offer one overall invoice with details per ship, to make internal invoicing easy and less time consuming.
Download list of available countries 
Register below to download the list of countries. We will send you the download link by email. 
This solution is also available for partner resale 
Contact our sales team to learn more!