Radio link network
Sets the course towards mass digitalisation at sea
In a world that demands 5G networks for connecting almost 24 billion devices (that number is expected to pass 40 billion by 2025)*, the maritime industry rethinks how to deliver high-capacity connectivity to vessels.
For a while now, cruise and ferry companies have been facing passengers' high expectations for affordable 24/7 communications and internet during their journey. Today, connectivity has also become a prerequisite of business and operations on board the vessels. In 2020, the number of connected IoT devices worldwide surpassed the number of personal devices. We can safely assume that IoT devices on board will catch up. Everyone - and everything wants and needs to be connected to the Internet. With maritime connectivity still largely reliant on geostationary satellites, providing enough bandwidth is a big challenge for vessel owners.
However, there are some who are farther ahead than others. This summer, Telenor Maritime's customer and strategic partner, Color Line, has taken a big step forward with the brand-new radio link network along their routes in Kattegat in Skagerrak. The network is a collaboration project between Telenor Maritime and Nowhere Networks, who have done the heavy lifting and installed the radios on land. This impressive network works seamlessly while ships sail through waters of 4 countries, utilising more than 20 shore sites with over 60 land trackers.
Despite the extensive installation process of the radio link network, it is still not as complex as a satellite network. The operational costs are significantly lower compared to other connectivity sources. In addition, higher speeds and lower network latency makes radio link a winner for everyone entering its network.
How ships connect through radio link to the onshore trackers:
For Are Paulsrud, CTO of Color Line, a full-scale implementation of radio link represents a game changer, offering their guests first class digital services and products. "At the same time, it enables digitisation and modernisation of IT infrastructure on board our ships.", he adds.
He is right; the trial period during the peak summer season has shown impressive results. The network performed beyond expectations on all routes. After some fine tuning, it delivered 100 percent coverage on all but one route: the Larvik to Hirtshals route, a stretch of 92 nm (170 km). The result was "just" 20-25 minutes loss of coverage. But is this distance really too long for radio link to cover?
As it turns out – no, further tuning and tests are indicating that the network can reach even this far, providing Color Line and other ship owners with 100 percent coverage in Skagerrak and Kattegat. However, there are many factors, like weather conditions, that can weaken the reach and quality of the signal. In such circumstances, Telenor Maritime's Connectivity Platform, a hybrid connectivity solution, will ensure that the Color Line fleet remains connected.
The Connectivity Platform utilises technology that combines multiple connectivity bearers into one powerful backhaul source to alleviate this issue. By seamlessly overlapping satellite connectivity where radio link cannot reach, the Connectivity Platform provides uninterrupted access to internet on board all vessels.
Where radio link drops, satellite picks up:
Internet traffic through radio link when in range. Satellite backhaul covers the blind spots.
Our technology will enable maritime access to cloud-based solutions, improving operations, allowing passengers to experience the Internet like at home and conference guests to do business as usual. As a partner, Color Line will benefit from this: it will support their corporate digital strategy, facilitate the green shift, add competitive advantage and strengthen their market position.

Lars Erik Lunøe, CEO Telenor Maritime
Through our partnership with Nowhere Networks, radio link is available in Skagerrak and Kattegat for all our customers, delivering a better passenger experience and enabling digitalisation at sea. If you have any questions or would like more information, please reach out to us below.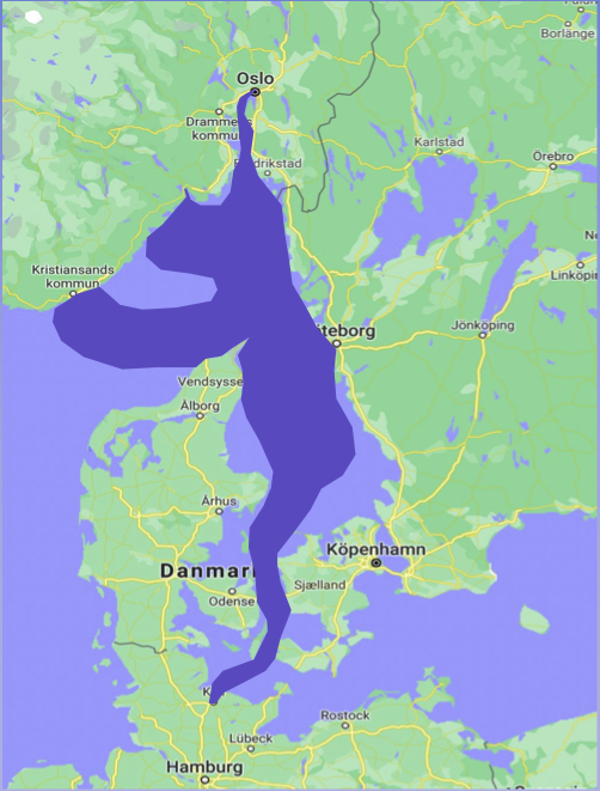 Radio link coverage in the Color Lines ferry routes.
*https://www.statista.com/statistics/1101442/iot-number-of-connected-devices-worldwide/